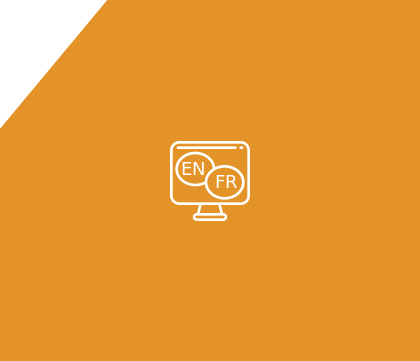 Website Translation Subsidy Through The RGA
Website translations are tricky projects which need to be handled with care. Your website is your proverbial best foot which you want to put forward in order to establish or reinforce your brand. You want to reach customers who speak a language that is not your own, and do so in a way that gets your company's message across properly. Nothing short of a professional translation service will do.
You may respond to this by saying, "Translation services are too expensive. We'll have an employee handle it." While this is always an option, you must know that it likely won't yield the results you're looking for. There is, however, an alternative solution. The Regroupement des gens d'affaires (RGA.CA) in Ottawa, can provide a subsidy (through Heritage Canada) to eligible businesses which can save you up to 50% on the costs of your website translation project! Conditions apply so reach out to 5Star for further information.
Who Can Apply?
All Canadian businesses are eligible for funding under this subsidy. This includes both profit and not-for-profit organizations, including individuals, government organizations, universities, schools, school boards, hospitals and foreign companies are not eligible for the subsidy.
Applications for the subsidy are accepted on a continuous basis. Therefore, there is no date set as a deadline for an application.
Eligible Projects
This subsidy covers the translation of websites from English to French and any linked documents.
Only website-related expenses are eligible to be subsidized.
How Does Invoicing Work?
The RGA (RGA.CA) will invoice you the subsidized cost of the translation and will then manage the translators' costs.
What Are the Criteria for Accepting Translation Projects
There are no criteria for accepting a project with the exception of running out of Government Funding. The subsidy is renewed by Heritage Canada every fiscal year and we have yet to run out of funds this year.
We encourage you to apply!
Project Funding and Government Limitations
Heritage Canada also encourages finding other sources of funding for translation projects including contributions from the organization or the private sector.
This is because the total financial assistance received from all levels of government (federal, provincial, and municipal) cannot exceed 50% of the total project-related costs.
The Heritage Canada subsidy can specifically fund anywhere from $500 to $10,000 per request, and up to a maximum of 50% of the eligible expenses.
More Information
This article covers many of the key points a prospective applicant needs to know. For more information, contact 5 Star Translation directly.
Committed to Serving Canada's Translation & Editing Needs
At 5 Star Translation, we excel in the areas of English-French translation, writing, editing and proofreading. Whether you need one of these services or are looking for a one-stop shop for all four, we are here to serve your needs – with attention to detail and commitment to service. Contact 5 Star Translations today to find out more. We will be back to you ASAP (in most cases within an hour).
2435 Holly Lane, Suite 100, Ottawa, ON K1V 7P2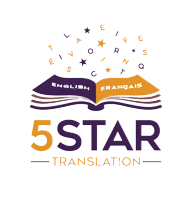 Contact 5 Star Translation