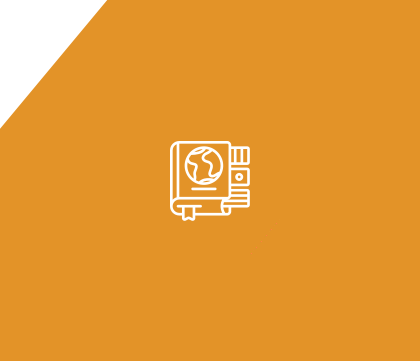 How to Enter the Quebec Market as an English-Speaking Business
With Canada officially being a bilingual country, businesses that have only operated in areas that are English-speaking are presented with unique challenges when they decide to expand into the Quebec market.
Considerations need to be given to the legal requirements of doing business in Quebec. Of course, there is also the matter of language that needs to be considered. According to the Chambre de Commerce du Montréal Métropolitan, 93% of the population in Quebec speaks French. That is the single greatest statistic that indicates the importance of having business materials properly translated in French.
If you are thinking about expanding your business into the Quebec market, but aren't sure where to start, or whether you can effectively do so, don't worry! We're here to help with useful information that you need to know about doing business in Quebec.
Business Registration
Before being legally allowed to conduct business in Quebec, the business must be registered with the Registraire des Entreprises Québec. Depending on the type of business, the required forms and registration process will be different. You can find information on the correct registration process and associated fees for your type of business here.
The Charter of the French Language
The use of the French language in business situations in Quebec is not just a strategy to employ for doing business in the province. It is a legal requirement. Through the Charter of the French Language, Quebec ascertains French language rights to its residents and requires the use of French in all functions of the business.
Under the Charter of the French Language, businesses operating in Quebec are required to use French on business materials such as:
Product Labelling
Every instance of text on a product, container, wrapping or product manual must use French as the prominent language. English text can still be used. However, it can't be more noticeable than the French text.
Forms & Invoices
All types of forms and invoicing documents must be produced in French. Bilingual versions are also acceptable, however French needs to be the primary language.
Public Signs, Posters & Commercial Advertising
Many of these materials may be bilingual, but the French translation must be "markedly predominant." This means the French text must be far more noticeable than the English text. Large billboards and signs that are visible from a public highway, and signs on public transportation vehicles like buses and subways must be exclusively in French. The exception to this rule is for signs on vehicles that transport merchandise or passengers across Quebec's borders, in which case the signs can be bilingual.
Websites
All commercial advertising that is directed at Quebec consumers must be in French. This includes any digital advertising campaigns run through Google, on social media, or digital video ads on websites like YouTube. The websites themselves can be bilingual, but the French version must be displayed as prominently as the English version. The Office Québécois de la Langue Française (OQLF) states that this requirement is met in practice when the French and English versions of a website are equivalent, meaning every single page on the English website has a French version.
Trademarks
Trademarks have been a widely disputed business asset with regards to language requirements in Quebec. Most notable was a case between the OQLF and Best Buy (Magasins Best Buy Ltée v. Québec (Procureur Général)) where the OQLF tried to interpret their regulation regarding English trademarks being allowed to be used if a French version had not been registered. They posited that the English trademark needed to be accompanied by a generic descriptive text in French. The Quebec Superior Court ruled in favour of Best Buy in 2014 which prompted the OQLF to make amendments to their regulations which came into effect in November, 2016.
With these amendments, English trademarks are still allowed to be displayed without accompanying French descriptions if there is no French trademark registered. However, for an English trademark to be displayed outside of an immovable structure (physical store location), there must be a sufficient presence of French that is permanently visible from outside the store.
Penalties for Non-Compliance
It is extremely important to follow the regulations set in the Charter of the French Language and by the OQLF. Failure to do so will result in a fine of $1,500 to $20,000 for each offence, with the fine doubled with each subsequent offence.
How to Succeed in the Quebec Market
Businesses don't enter a new market with the intent to fail, and if you're reading this to find information on how to get into the Quebec market, you are probably also reading this to find information on how to succeed in the Quebec market. In order to do that, you need to make adjustments to your brand that will allow it to grow in Quebec.
Translation & Localization
We've gone over the importance of having business materials translated to French, but that is only the first step needed to comply with regulations. Translation addresses linguistic differences in the French and English languages. Adding localization as a second step will take this translated content and adapt it linguistically and culturally to your target market to make it appear as though it was created locally.
Residents of Quebec are incredibly proud and protective of their French heritage and culture. Many Quebecois people are also not completely aligned with their English-speaking countrymen, culturally speaking. Choice of language and messaging that would work when advertising to an Ontarian or Albertan consumer may not always be as effective when directly translated and shown to a Quebecois consumer. This is an important consideration to make when developing materials and advertising in all marketing channels including print, television, radio and digital advertising.
There is also the matter of the difference between Canadian French vs. European French. There are certain nuances in the vocabulary and pronunciation of words when it comes to Canadian French, and missing these nuances can mean the difference between appealing to a demographic, and alienating it.
Luckily, 5 Star Translation provides expert translations that take these considerations into account, producing high-quality French business assets that can capture the attention and appeal to consumers in Quebec.
How Michaels Did This Right: A Case Study
In September of 2012, the American arts and crafts retailer Michaels opened seven stores across the province of Quebec. It was one of the most anticipated retail openings in Canada at the time. Hundreds of people lined up outside of stores hours before the grand openings at each location. VIP nights were held with celebrities, media and crafting influencers in attendance. Media coverage was positive and local politicians had a great deal of praise for the way Michaels handled their entry into Quebec.
This successful launch was all due to a three-year long process that was needed to prepare. Their success can be summarized in five key points.
They Adapted Their Brand From The Top Down
Having 1100 stores operating across the US and English Canada, the executive team saw and treated the expansion into Quebec the same way they would have treated an expansion into any non-English speaking country. They understood from the start that everything they did in terms of language, culture, business practices, and HR management needed to be adapted to accommodate the intricacies of the Quebec market. This was well communicated with their cross-functional teams involved with the expansion and everybody was on the same page from the start.
They Partnered With Valuable Local Experts
Michaels formed partnerships with PR and business strategy firms that had expert knowledge about the Quebec market. These firms consulted and communicated with Michael's staff involved with the expansion project about potential issues in their plans and provided actionable suggestions to correct those issues.
They Took Time to Understand the Local Consumer
Michaels hired a market research company because they wanted to fully understand their target market. This company conducted focus groups, shop-alongs and a survey to collect useful market data for Michaels. With it, they were able to identify many unique features of the market and gain a rich local perspective which directly influenced the products they offered, store design, promotional strategies and messaging.
They Went Above and Beyond With Translations
Michaels was primarily concerned with compliance with the Charter of the French Language. They had 35,000 sales units and countless other communication materials meant for training, suppliers and customers that needed to be translated to French. This was a massive project that lasted three years. However, they didn't stop there. They wanted to show sincere interest in connecting with people in Quebec by creating a new slogan in French: "Tout pour vos projects créatifs" (Everything for your creative projects).
This slogan was displayed on all storefronts and promotional materials. One sentence may seem like a very minor change to make, but it can have a significant impact on a brand. This slogan perfectly captured the perfect balance between conveying Michaels' corporate brand and showing sensitivity to Quebec's Francophone culture. This is rarely done when English businesses enter the Quebec market.
They Picked the Right Representative
Michaels knew that they needed to have a person from Quebec to be the face of the company in that market. Early on in the expansion project, directorial positions were filled with people from Quebec with traditional Quebecois names. The Managing Director for Quebec became the company spokesperson in the province. A digital campaign was conducted using a jury of local crafting influencers to find and name a Quebec-based "Michaels Ambassador" who would become the creative face of the company.
Other Ways to Succeed in Quebec
Most businesses aren't as big and established as Michaels and they certainly don't have the same amount of resources to follow their plan. While smaller businesses can certainly consider what Michaels did right and factor that into their expansion plans, there are other ways to gain success that don't require the use of the expensive resources that Michaels had access to.
Use A Localized Digital Marketing Strategy to Increase Marketing ROI
Simply doing a direct translation of your English ads and website is a recipe for disaster. Your website traffic growth will be limited, and your conversion rates and returns on ad investments will be lacklustre. Adapting your SEO and Pay-Per Click strategies for the Quebec market can drive better brand engagement and conversion rates. Using an effective localized strategy for the Quebec market can lead to an ROI that is four times higher than if the same strategy was used for English and French campaigns. Taking the time to learn about and understand your target market (much like Michaels did), and having properly localized translations of your ads and marketing materials is crucial to seeing successful results in these campaigns.
Invest in Francophone Customer Service
Once you have met the regulatory requirements and have implemented a strong, localized digital marketing strategy, it is then time to look at customer service. Having customer service in French is essential when doing business in Quebec.
Regardless of whether a Canadian consumer speaks English or French, they want to have genuine interactions with a business where they feel as if they are valued as a customer. In Quebec, this means having customer service representatives that speak Canadian French.
Imagine a French-speaking consumer needs assistance regarding a product or service they have purchased from your company. Do you think that person would be happy to speak with a customer service representative that can't speak the same language as them? Do you think their issues could be properly addressed and resolved? Would that person feel like the company cares about the fact that they speak French when the representative picks up the call and says "Thank you for calling. How can I help you today?" The obvious answer to these questions is no. French customers need to be supported by French customer service representatives, or else they will not have a good experience dealing with your company. This can easily damage the company's reputation in Quebec, making success in the Quebec market far more difficult to achieve.
Key Takeaways
Expanding a business into the Quebec market as an English-speaking company is not an easy task to undertake. It takes careful planning, consideration, and focused execution to do it well and establish the brand in a market that is culturally and linguistically different than anywhere else in the country.
Make sure you follow the registration process properly and do what needs to be done to comply with the Charter of the French Language.
Take your time to research your target market in the province. Learn what makes them unique, and adjust your brand, digital marketing strategy and business materials accordingly. Then get your materials translated by a professional translator who can produce high-quality localized materials.
Finally, invest in your customer service capabilities and provide support in French.
For all of your translation needs, 5 Star Translation is here to help, much like we have with many other businesses over the years. Getting into the Quebec market won't be easy, but nothing worth doing ever is. We will make sure that the translation portion of your expansion plans goes off without a hitch and produce materials that will resonate with your target market.
Contact us today to see how our professional translation services can help your business succeed in Quebec!
Committed to Serving Canada's Translation & Editing Needs
At 5 Star Translation, we excel in the areas of English-French translation, writing, editing and proofreading. Whether you need one of these services or are looking for a one-stop shop for all four, we are here to serve your needs – with attention to detail and commitment to service. Contact 5 Star Translations today to find out more. We will be back to you ASAP (in most cases within an hour).
2435 Holly Lane, Suite 100, Ottawa, ON K1V 7P2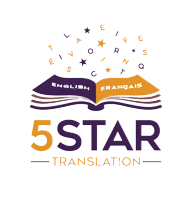 Contact 5 Star Translation