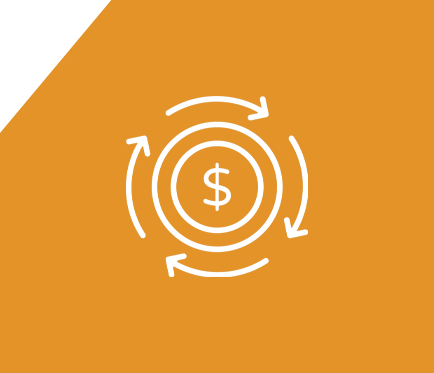 Why Translation is an Important Investment for Your Business
Business translation services are a $45 billion dollar industry as of 2020. Some key benefits of hiring a professional business translator include but are not limited to:
– Enhancing how you communicate with your clients
– Improving the visibility of your brand
– Helping build your company's reputation
– Helping you collaborate internationally
– Building consumer appeal
Living in Canada, you are guaranteed to benefit from hiring professional translation services for your business, no matter the nature of your work. This makes the decision to hire our world-class translation services one of the best investments you could make.
Our Professional Translation Services
We offer a wide selection of commercial translation services to clients across Canada. Offering the highest quality English to French translation services, you can rest assured we will deliver the best quality translations for your business.
We have put together this simple breakdown of our professional services to showcase our various commercial translation services. This will highlight the value of what we can do for your small to medium-sized business. Professional translation means you can serve more clients by working with a translation company to offer bilingual technical writing services
Website Translation
Having a French translation of your website will prove to be extremely helpful, especially in Ottawa where bilingualism  is often encountered.
It is important to hire a professional translator to ensure your website translation is done properly to avoid any costly miscommunications. Our services include editing and proofreading, so you can rest assured the quality of work you will receive is top-of-the-line.
We provide this industry-leading service at a cost-effective price point. Contact us today to get started.
Technical Document Translation
Technical document translation is the professional translation of official documents such as instruction manuals, contracts, training programs/resources, technology patents and more.
These documents all contain indispensable terminology. It is important these documents are properly translated so the information remains accurate.  Especially for technical document translation, it is imperative you hire a professional translator.
Here at 5 Star Translation, we have successfully translated dozens of technical documents across all industries. From engineering services to the construction industry, we have you covered. Contact us today for the most effective technical translating services on the market.
Content Marketing Translation
Content marketing focuses on sharing relevant information targeted at reaching a specific demographic. This process has helped thousands of brands grow their businesses.
If you are expanding into new markets, existing content provides a great advantage when attempting to launch your content marketing strategies. However, you risk missing out on this excellent opportunity if you don't hire a professional translator. We will accurately translate your current content marketing strategy so it is as impactful in French as it is in English.
Trust us to provide you with industry-leading translation services. Contact us today to get started.
Packaging Translation
Packaging translation services for commercial retail businesses are one of the most important investments you'll make for your business. This will drastically expand your target demographic by providing information on your products to Canadian citizens whose primary language is French, not to mention it is a mandate in Canada that all packaging must be bilingual.
With all the rules put forth by the Canadian Food Inspection Agency, the Competition Bureau and the Charter of French Language, it can be overwhelming trying to meet all requirements in terms of bilingual packaging standards. Allow our team of translators to help you ensure you are following all standards of bilingual packaging.
5 Star Translation – Your Business Translation Service Experts
Here at 5 Star Translation, we provide the highest quality professional translation services in Canada. No matter which services you require, we are fully prepared to deliver unparalleled work for your business.
Allow us to help you grow your brand and take your business to new heights. Contact us today to take the first steps in expanding your businesses demographic.
Committed to Serving Canada's Translation & Editing Needs
At 5 Star Translation, we excel in the areas of English-French translation, writing, editing and proofreading. Whether you need one of these services or are looking for a one-stop shop for all four, we are here to serve your needs – with attention to detail and commitment to service. Contact 5 Star Translations today to find out more. We will be back to you ASAP (in most cases within an hour).
2435 Holly Lane, Suite 100, Ottawa, ON K1V 7P2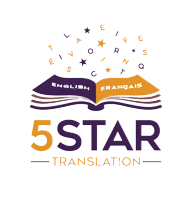 Contact 5 Star Translation